PITYPANG TIPLI FOR ADDACI
HIP SCORE 5/6=11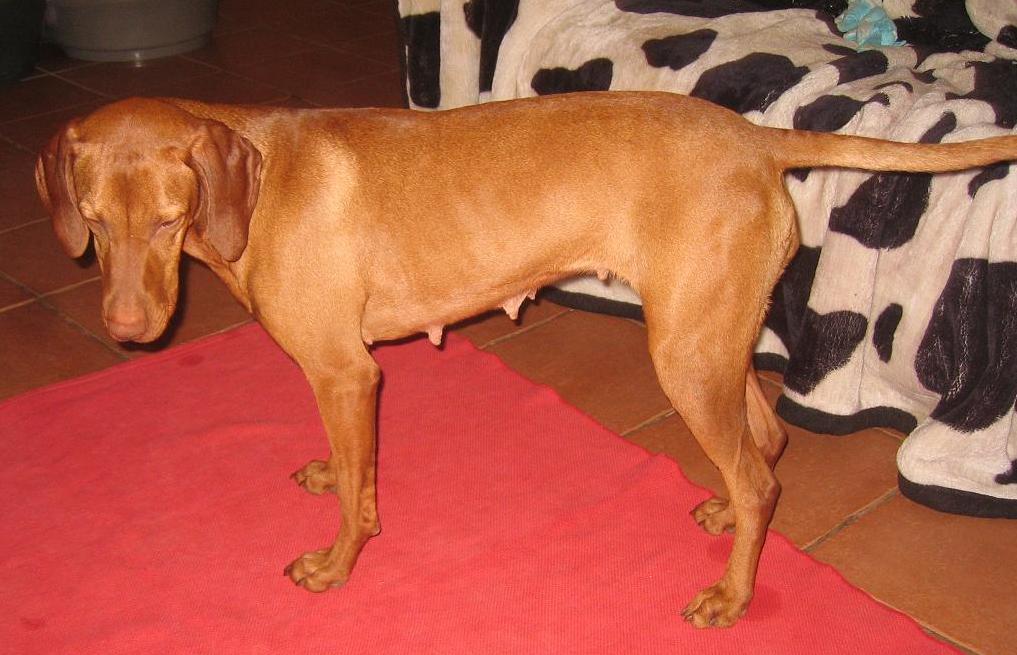 Pitypang Tipli For Addaci
photo by Gill Buller
photo by Pitypang 2007
CH Pitypang Ocskos ex CH Pitypang Rigli
Both Carlos & Rigli have been hip scored in Hungary.
Pitypang Tipli was born in 2007 in a litter of 10 puppies, 8 girls & 2 boys.
Rigli & her puppies with Rigli's Mum, Csitri helping out. photo by Pitypang 2007
Rigli, Csitri, Puppies, Blanka & Kinga photo by Pitypang 2007
Rigli photo by Pitypang 2007
I met the lovely Rigli on a visit to Tamas & Zsuzsa at the home of Pitypang in Budapest during 2007 and absolutely fell in love with her.
Rigli & Puppies photo by Pitypang 2007
I was delighted when Rigli's first litter, to Carlos, was born and Zsuzsa offered me pick of the puppies.
I saw lots of photos of the puppies and I finally saw them for real.
Microchipping time with Oren the Vet. photo by Gill Buller
The decision was almost instantaneous and Puppy "I" - Tipli - was the one chosen to come and join us at here at Addaci - I somehow don't think it was a case of me choosing the puppy as Tipli was the one who did all the choosing!!!
Tipli, photo by Pitypang
I have also met Tipli's dad - Carlos - Pitypang Ocskos at the Vandabanda Kennel.
Carlos, photo by Gill Buller
Later this year Tipli will travel to the UK. Tipli has a bold, outgoing personality, with excellent construction, a little mischief maker!
Pitypangs - Pimasz, Sasti, Rigli, Dorka & Gondor photo by Gill buller
It is truely a great honour to be given the opportunity to have a Vizsla from one of the most famous and dedicated Magyar Vizsla Kennels in Hungary where all are true dual Vizslas who both hunt and show and are also much loved family members.
Out hunting - Pitypang Gondor, Pitypang Orka, Pitypang Pimasz, Pitypang Rigli & Pitypang Sitke
photo by Gill Buller
Pedigree for PITYPANG TIPLI
HUNGARIAN VIZSLA
Sire
INT CH PITYPANG OCSKOS
Sire
AMCH TRIAD'S DRY MARTINI
Sire
AMNFTCH & AMAFTCH FIELDWAY'S JACK DANIELS
Sire
FIELDWAYS MR MURPHY
Dam
REBEL ROUSERS BEST BET
Dam
AMFTCH & AMCH TRIAD'S XX1V KARAT OAKLEAF
Sire
RIVERBENDS DEACON'S DANDY
Dam
OAKLEAF'S WHISTLIN'DIXIE
Dam
PITYPANG KOSZA
Sire
VADOCA KIRALY
Sire
CSARTAKAI ALMOS
Dam
VADOCA VASIRI
Dam
INT & HCH & HGCH PITYPANG BERTA
Sire
PITYPANG GYIMES
Dam
PITYPANG TRESZI
Dam
SGC & HCH PITYPANG RIGLI
Sire
VCH PUSZISZORO SIMON
Sire
MATAI DUDAS
Sire
MATAI CIKLON
Dam
MATAI VIKI
Dam
HPJ KILATO TERI FRANCI LUCI
Sire
INT CH HGCH VADASZFAI KOZAK
Dam
KAVAI POMPAS
Dam
HCH PITYPANG CSITRI
Sire
PITYPANG VACKOR
Sire
NADKAJTATO CAKK
Dam
INT CH, HCH, WCH HELVETIA DORA
Dam
SH CH HOOKSIDE BRAID
Sire
HOOKSIDE SATURN
Dam
HOOKSIDE MINX
FREE pedigree generator at Dog Resources the dog breeds directory. pedigree maker
Sponsored by Whelping Boxes